RavenSites enjoys 42 acres of sloping forested land at an elevation of 3750 feet. Mt. Shasta to the east towers some 10,000 feet above the local land; the Eddys to the west reach about 5,000 feet up to the crest where the Pactific Crest Trail lies.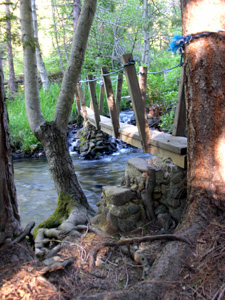 Evergreen trees dominate the landscape. Elder Cedars, Douglas Firs and Sugar and Ponderosa Pines are the tallest. Juniper, Knob Cone Pine, Dogwood, Alder and occasional Oak trees dot the land. Azaleas, Bracken Fern, Manzanita, Rabbit Brush and Ceanothus occupy the understory.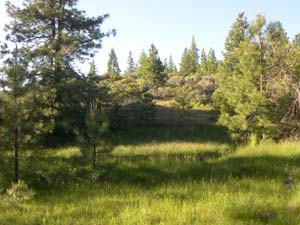 Shasta River courses through the land year round. There's area near the river which provides a secluded glade for loafing, meditation or a refreshing spot to cool off during the summer.
The large meadow located at the eastern boundary of the property provides wetlands habitat for amphibians, reptiles, insects, mammals, birds, and rodents who live in the Shasta ecosystem.
The trail up the south face of Medicine Hill leads through volcanic rock outcrops to a medicine circle which has grand views of Mt. Shasta to the east and the Eddys to the west.
Wildflowers, including Columbine, Shasta Daisy, Lupine, Chinese Lantern, Phantom Orchid, Shooting Star, and Indian Paintbrush grace the forest floor in the early spring. Thistle, Blue Chicory, Yellow Klamath Weed, line roadsides during the summer. We are still learning what's here.